The RemPhos solar flood light fixture features an all-in-one design. The solar panel and battery are built into the LED fixture. No need for a power source, which eliminates the need for trenching or wiring. Perfect for signage, billboards, walls, pathways and gardenfeatures. This fixture will turn on at night automatically and can be set to either stay at 100% light output or dim down if there is no motion.
Solar Flood Light
20W Fixture comparable to a 150W HID
All-in-on design, solar panel and battery are built into LED fixture
Pole mounted or wall mounted
Battery can support 5-6 nights with cloudy days.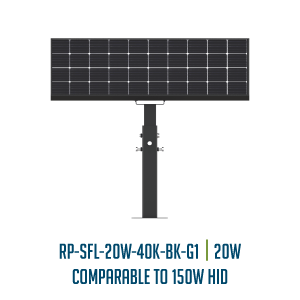 Solar Flood Light | Light Efficient Design