Innovative flat panel design is a perfect match for pole mounted "shoe box" fixtures and wall packs. Directional LED array delivers superior light distribution and intensity versus generic "corn lamp retrofits". All models utilize our Advanced Active Cooling technology delivering consistently higher LED efficacy and life when placed within enclosed fixtures.
Low Bay Retrofit Lamps – Ballast Bypass, Internal Driver, Series 1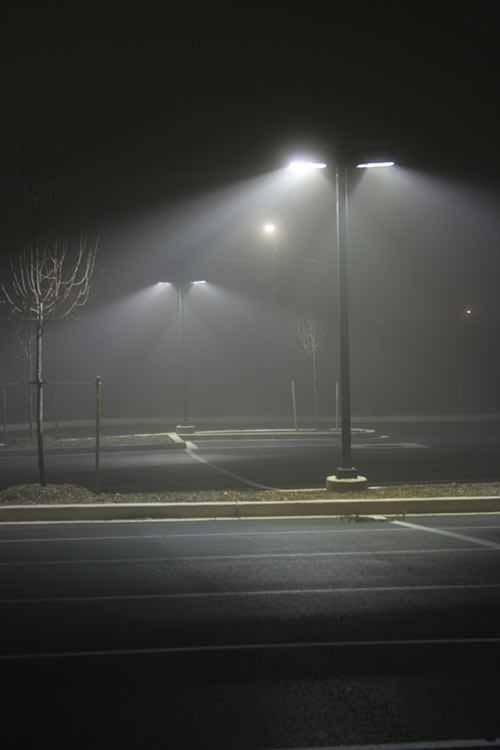 Compact design delivers wide, even light distribution when retrofitted into shoebox or wallpack fixtures.
Bypass ballast design is easy to install and delivers energy savings up to 80%.
Rotatable Screw Base insures that light output is directed to where it is needed.
Existing fixture reflector
Delivers higher delivered lumens and efficacy compared to shoebox retrofits using generic LED "corn lamps".
Available in 30W, 50W, 80W and 120W models replacing HID Lamps up to 400W.
Choice of 3000K, 4000K, or 5000/5700K
Type V light distribution, 120W Model also available in Type III and IV light distributions. Advanced Active Cooling technology includes dynamic temperature monitoring, computer designed high efficiency heat sink and long life active cooling fan. Superior heat management results in consistently higher performance and long LED life.
Safety rated and heat tested within fully enclosed fixtures from -40 to +122F ambient temperatures.
UL Listed 1993 and UL Classified 1598C (retrofitted fixture retains UL, E39 models only) within USA and Canada.
Find The Right Retrofit
Shoe Box / Wall Pack Retrofit Lamps – Ballast Bypass, Internal Driver, Series 1
| Item Number | LUMENS | POWER USED | REPLACES | VOLTAGE | BASE | CCT | Unit | Purchase |
| --- | --- | --- | --- | --- | --- | --- | --- | --- |
| | 4171 | 30W | 100W HID | 120-277V | E27 Edison | 4000K | | Call to order |
| | 4171 | 30W | 100W HID | 120-277V | E40 Edison | 4000K | | Call to order |
| | 4225 | 30W | 100W HID | 120-277V | E27 Edison | 5700K | | Call to order |
| | 4225 | 30W | 100W HID | 120-277V | E40 Mogul | 5700K | | Call to order |
| | 5946 | 50W | 175W HID | 120-277V | E27 Edison | 4000K | | Call to order |
| | 5946 | 50W | 175W HID | 120-277V | E27 Edison | 4000K | | Call to order |
| | 5946 | 50W | 175W HID | 120-277V | E40 Mogul | 4000K | | Call to order |
| | 5946 | 50W | 175W HID | 120-277V | E40 Mogul | 4000K | | Call to order |
| | 5870 | 50W | 175W HID | 120-277V | E27 Edison | 5700K | | Call to order |
| | 5870 | 50W | 175W HID | 120-277V | E27 Edison | 5700K | | Call to order |
| | 5870 | 50W | 175W HID | 120-277V | E40 Mogul | 5700K | | Call to order |
| | 5870 | 50W | 175W HID | 120-277V | E40 Mogul | 5700K | | Call to order |
| | 6910 | 80W | 250W HID | 120-277V | E40 Mogul | 4000K | | Call to order |
| | 6910 | 80W | 250W HID | 120-277V | E40 Mogul | 4000K | | Call to order |
| | 7403 | 80W | 250W HID | 120-277V | E40 Mogul | 5000K | | Call to order |
| | 7403 | 80W | 250W HID | 120-277V | E40 Mogul | 5700K | | Call to order |
| | 11605 | 120W | 400W HID | 120-277V | E40 Mogul | 4000K | | Call to order |
| | 11605 | 120W | 400W HID | 120-277V | E40 Mogul | 4000K | | Call to order |
| | 11760 | 120W | 400W HID | 120-277V | E40 Mogul | 5000K | | Call to order |
| | 11760 | 120W | 400W HID | 120-277V | E40 Mogul | 5700K | | Call to order |